Acer Windows Mixed Reality Headset Developer Edition is now available in the Microsoft Store. Last year, Microsoft announced that HP, Dell, Lenovo, ASUS, and Acer would be making low-cost virtual reality headsets. Unfortunately, the HP head-mounted displays (HMD) is already out of stock.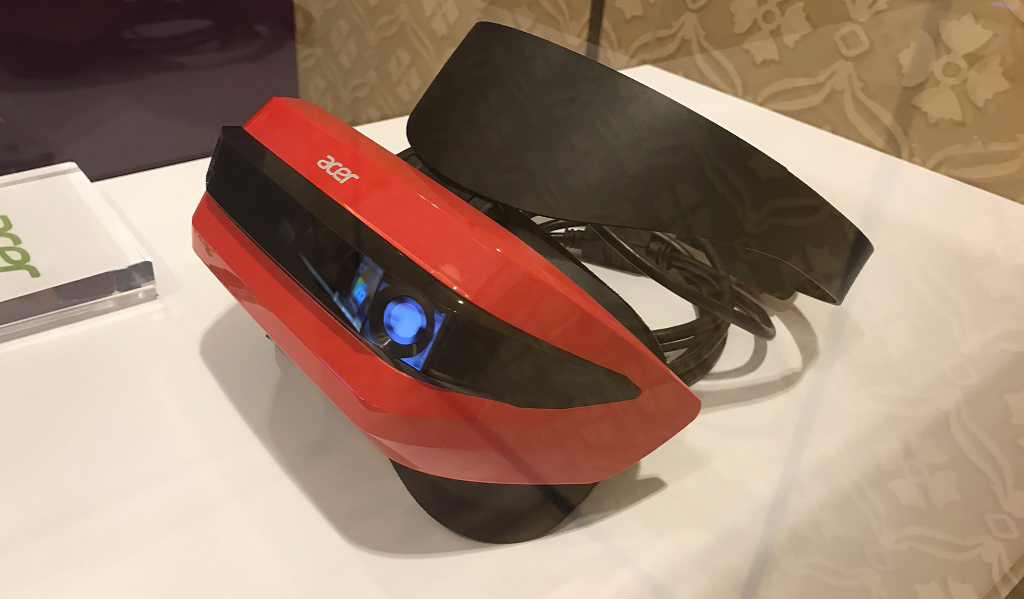 Both Mixed Reality Headsets have two LCDs at 1440×1440, 2.89-inch display size, 95-degree horizontal field of view, refresh rate of up to 90Hz, a 3.5mm headphone jack, HDMI 2.0, and USB 3.0.
Acer Windows Mixed Reality Headset Specs
Two high-resolution liquid crystal displays at 1440 x 1440
2.89" diagonal display size (x2)
Front hinged display
95 degrees horizontal field of view
Display refresh rate up to 90 Hz (native)
Built-in audio out and microphone support through 3.5mm jack
Single cable with HDMI 2.0 (display) and USB 3.0 (data) for connectivity
Inside-out tracking
4.00m cable
Acer Windows Mixed Reality Headset System Requirements
Operating systems
Windows 10 – Creators Update (Developer Mode enabled)
Processor
Desktop: Intel Desktop i7 (6+ Core) OR AMD Ryzen 7 1700 (8-Core, 16 threads)
Graphics GPU
Desktop: NVIDIA GTX 980/1060 | AMD Radeon RX 480 (8GB) equivalent or greater | DX12 and WDDM 2.2 capable GPU
Graphics drivers
Windows Display Driver Model (WDDM) 2.2
Thermal design power
15W or greater
HMD connectors
HDMI 1.4 or Display Port 1.2 for 60 Hz HMDs
HDMI 2.0 or Display Port 1.2 for 90 Hz HMDs
1x available graphics display port for HMD
Resolution
SVGA (800×600)
Bit depth 
32 bits of color per pixel
RAM
16GB or greater
Storage
>10GB additional free space
USB
1x available USB port for HMD
USB 3.0 Type-A
Note: USB must supply a minimum of 900mA
Bluetooth
>Bluetooth 4.0 (for accessory connectivity)
The Acer Windows Mixed Reality Headset Developer Edition will cost you $299, and you can find it on the Microsoft Store here. HP's HMD will costs you $329, you can find it here.