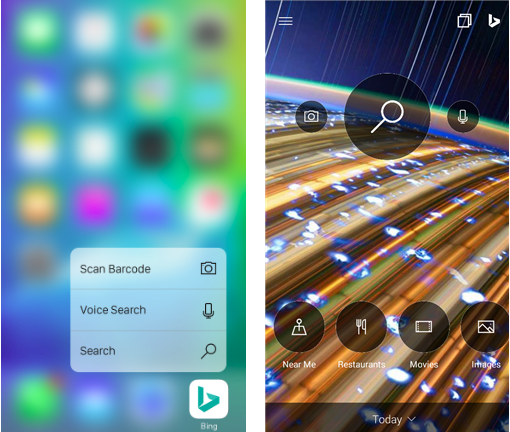 In a recent post, Microsoft announced that Bing on iPhone, which is also available on Android, received an update adding a lot of new features. The Bing iPhone app brings all the information you need to your fingertips, making it easier to access what you need, when you need it. Bing on Android allows you to get snapshots of information, on-tap, all while using other iPhone apps.
Microsoft is launching these new features on both the iPhone and Android Bing apps to allow users to shop faster and find the latest money-saving deals and coupons. Included in this latest update is a barcode scanner, which allows you to scan and compare products to see who has the cheapest prices, whether it be online or at your favorite retail chain brick-and-mortar store.
If you want to know how to use the barcode scanner with Bing on iPhone, you can use the 3D touch technology on your iPhone 6S or iPhone 6S+ to "force-touch" the Bing app icon and select "Scan Barcode." For older iPhone models, you will need to select the "Deals"menu and select the barcode scanner from there. For Android users, you will need to hold down the search icon and select the camera to use the barcode scanner feature.
Bing on iPhone app also has a dedicated deals option, so you can take advantage of the latest offers and find valuable coupons on the products you want, directly within Bing search results. So, if you happen to browse to a particular restaurant or store website, coupons will pop up while you are browsing that website. Bing will provide you with easy instructions on how to redeem the deal or coupon. The dedicated deals option will be coming soon to Bing on Android.
Finally, Bing on iPhone includes integration with GasBuddy to find the cheapest gas price where you live. Bing already provides the latest information on the closest gas stations to your location. Now with the GasBuddy integration, you can see the closest gas stations and which gas station has the lowest prices too.
Bing on iPhone and Android are adding new features all the time to keep you up-to-date with the latest search options, try Bing for yourself and tell us what you think in the comments section.