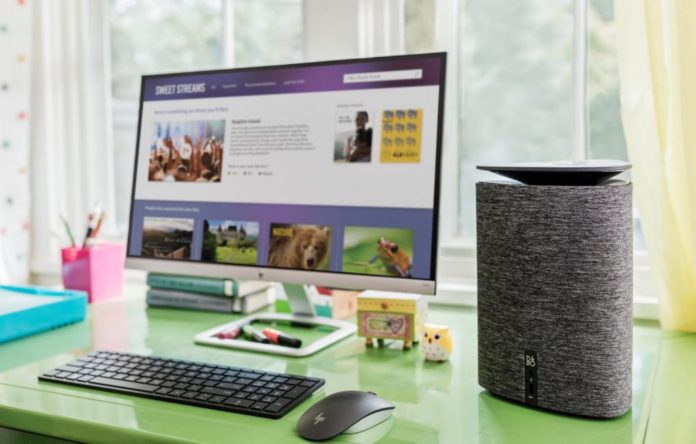 Today, HP announced two new desktop PCs HP Pavilion Wave and Elite Slice running Windows 10. The HP Elite Slice is the first modular commercial desktop.
HP Pavilion Wave
HP Pavilion Wave is new compact design with the power of a full-sized desktop, running on Windows 10. The dual microphones enable voice integration with your digital personal assistant, Cortana. It features an iconic triangular form with an innovative parabolic reflector with an integrated speaker on top of the PC for superior, 360-degree audio experiences to a fill room with crisp audio. This unique desktop is built around a fully integrated, advanced audio system to play music, listen to movies and web chats.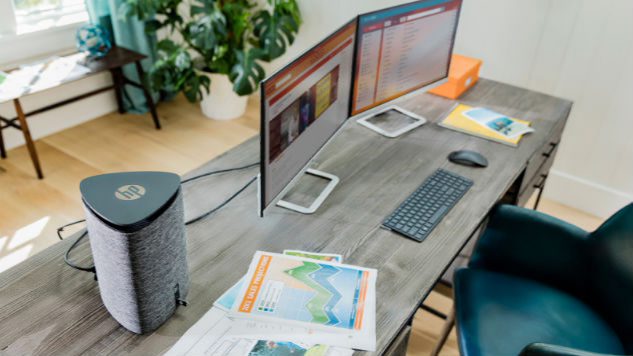 HP Pavilion Wave Specs
Fully integrated, advanced audio capabilities
Up to two 4K displays are supported out-of-the-box to power entertainment and productivity
Peripheral support with three USB 3.0 ports, one USB 3.1 Type-C port for data transfer, one HDMI port, one DisplayPort, Gigabit Ethernet and a microphone/headphone jack.
Cortana support with two dual microphones for customers to talk to their PC for a hands-free experience
High-performing power house with up to 6th  Generation Intel Core i7 quad-core desktop processors, ample storage up to 2 TB HDD, an optional dual drive with 128 GB SSD5 and up to 16GB of DDR4 system memory
Optional AMD Radeon R9 M470 discrete graphics for photo and video editing or light gaming
Windows 10
HP Elite Slice
The HP Elite Slice is the first modular commercial desktop with cable-less connectivity and enables customers to build the desktop of their choice. HP Elite Slice features modular design in matte black with polished copper accents to streamline workplaces.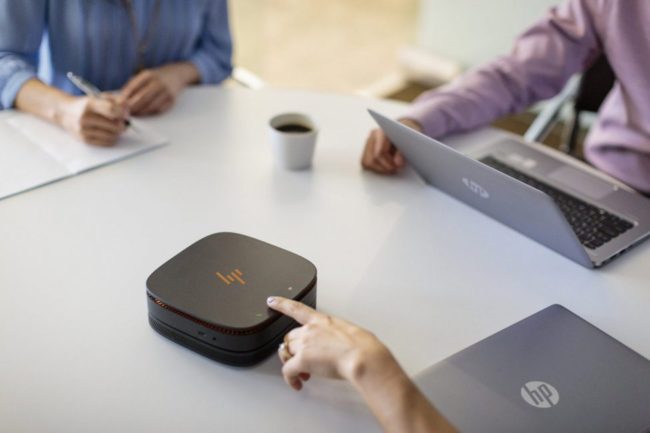 HP Collaboration Cover: turns the desktop into a Microsoft Skype for Business phone for easy call management with capacitive touch keys.
HP Wireless Charging Cover: wireless charging starts automatically upon contact to eliminate charging cables and ensure mobile phones and devices are powered, ready for use. The Wireless Charging Cover is expected to start shipping in the first half of 2017 and requires factory configuration.
HP Audio Module: spoken word tuning makes virtual meetings and call experiences crisp and clear with audio tuned by Bang & Olufsen, 360-degree speaker design, dual-microphone array with range of five meters and HP Noise Cancellation software.
HP ODD Module: for quick and easy back up or to archive files and access legacy content on CDs or DVDs.
An optional touch fingerprint sensor for improved security and easy authentication.
HP Sure Start with Dynamic Protection, the industry's first self-healing BIOS-level protection.
Up to 6th Generation Intel Core i7 35-watt processors for the performance to easily handle productivity and collaboration needs.
Unique 360-degree dual fan pipe ring keeps the powerful device running cool.
Peripheral support for enhanced productivity including one Ethernet port, built-in Wi-Fi module and antennas, one HDMI and one DisplayPort to power multiple displays.
The HP Elite Slice starts from $699 and is expected to be available in September 2016.