New HP Powerup Backpack can recharge your laptop, mobile, and other devices on the go. HP Powerup Backpack features massive 22,400mAh battery. With such a battery you could recharge your smartphone 10 times, tablets three times and laptop once. To keep backpack from getting too hot, bag features ventilated pockets and heat sensor monitors.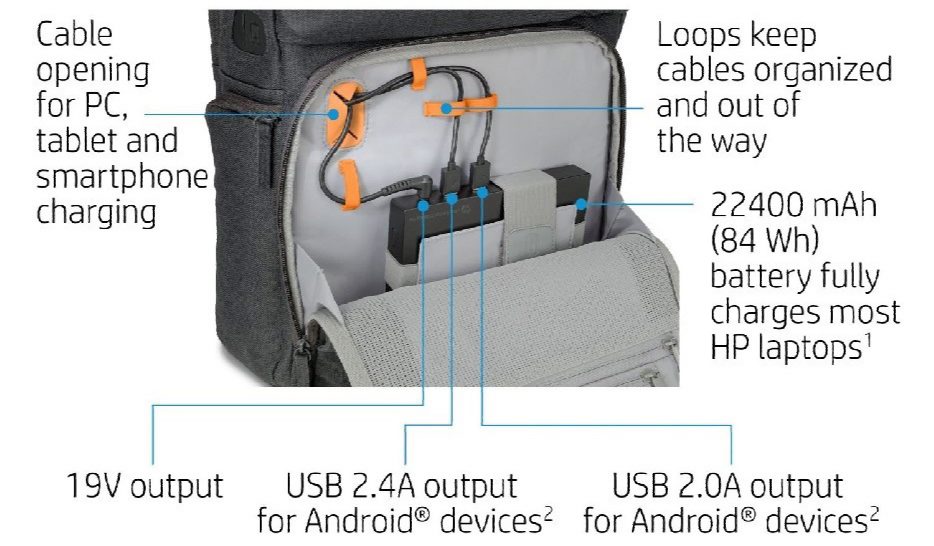 HP Powerup Backpack features:
Big power for 3 devices: Charges most HP Laptops with up to 17.3″ diagonal screen size, a tablet, and a smartphone. With power priority, you control the order in which your devices charge.
High-capacity 22400 mAh battery: Provides a full charge to most HP laptops, charges a tablet up to three times, and a smartphone up to 10 times.
A built-in heat sensor monitors backpack temperature and adjust accordingly. Meets security requirements for in-flight carry-ons
Heavy-duty canvas exterior with interior padding and durable straps helps provide long-lasting laptop protection. Coated to resist wet weather and comes with its own raincoat.
Laptop and USB micro cables included: Two USB micro cables for Android® devices and one laptop cable included. Easily recharge your backpack with a side-pocket plug-in.
The backpack is now up for pre-order on Amazon and will be available on October 1st. HP Powerup Backpack will cost you $200.