Intel launched its new range of Intel Core i7 Extreme Edition processors. Core i7 6950X is Intel's first 10-core CPU. New 10 CPU processor is priced at the $1,723. Intel Core i7 6950X features 3GHz single core speed supporting 20 Hyper-threads and can turbo boost speed up to 3.5GHz.
Intel said, a gamer while playing at 4K resolution can also encoding a recording of his match and streaming at 1080p at the same time. Intel Core i7 6950X is up to 35% faster in 3D rendering, 25% faster video editing, and 20% faster video transcoding than the previous flagship Core i7-5960X.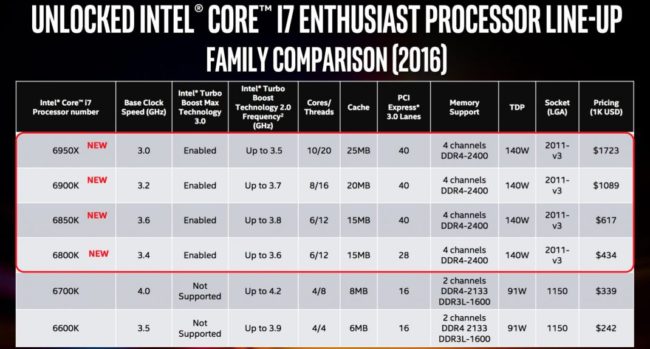 Intel processors Codenamed Broadwell-E also includes the Core i7-6900K running 8 cores at 3.2GHz priced at $1,089, the 6 core Core i7-6850K running at 3.6GHz at $617 and Core i7-6800K 3.4GHz speed processor is priced at $434.
Intel Core i7 6950X processor come unlocked with quad-channel memory support. Intel new processors are now available to buy.