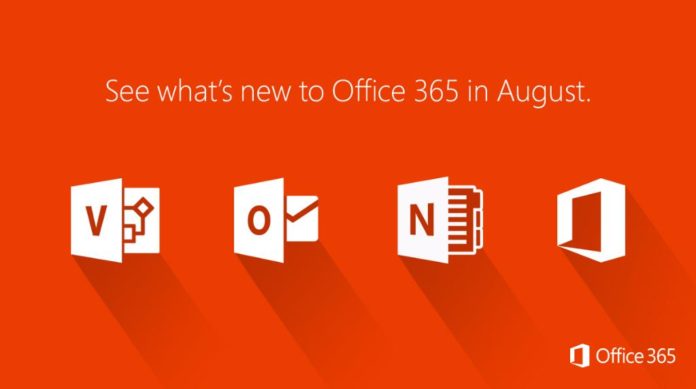 Microsoft has posted more details about Office 365 August Update. Office August update includes many new features like more Ink support, Windows Information Protection addition to office and more. Microsoft also announced new level in insider testing called Office Insider fast.
New in Microsoft Office 365 August Update
Ink math assistant in OneNote: When you handwrite an equation, OneNote can not only convert it to text, but also now teach you the steps to solve it. This intelligent assistance makes OneNote your math coach and pairs nicely with Editor, the recently announced intelligent writing assistant in Word. Together, they make Office an even better partner to help you achieve more in your learning journey.
Replay inking in Office apps: To understand what's behind the ink you see on a page, use new ink rewind and replay capabilities. Follow a sequence of handwritten notes and drawings, review step-by-step instructions, or see the order in which somebody else marked up the document.
New ink effects in OneNote: Get even more creative with ink effects in OneNote. Inspired by feedback from students, the new rainbow, galaxy, gold and silver ink options help your inking pop off the page and make learning in OneNote even more engaging.
Windows Information Protection (WIP): WIP is now supported in Office mobile apps for Windows tablets and phones. Previously announced with the Windows 10 Anniversary Update, WIP is an enterprise-ready solution that helps prevent accidental data leaks while letting users maintain control over their personal data. Simply designate content you create in these apps as "work" or "personal" so that your IT department can protect or remove only business data. Download the latest versions of Word, Excel, PowerPoint and OneNote to start using WIP.
Enhanced people experiences for Outlook on the web: Commercial customers can now go beyond a person's basic contact details with deeper, more intelligent people experiences in Outlook on the web. Clicking a coworker's name helps you discover more information about them, including their organizational chart, who they commonly work with (powered by the Microsoft Graph), Office 365 Groups they've joined, as well as recent emails, files and meetings you have in common.
Visio is expanding to more platforms: Two new Visio apps are available to provide rich diagram viewing across even more devices:
The new Visio Online Preview lets you view and share Visio diagrams with just a browser. Drill deeper into sub-processes or link out to web pages. Zoom into detailed views in high fidelity. Open a diagram in Visio Pro for Office 365 to edit.
With the new Visio for iPad, access your Visio diagrams from virtually anywhere using your iPad. Search for content, filter different visualizations of the same diagrams, and use the intuitive pan and zoom window to easily navigate or view your diagram in full fidelity. Send feedback and vote on your favorite features on UserVoice.
Accessibility updates: We have been hard at work making rapid progress on our accessibility roadmap outlined earlier this year. Recent updates to apps like Word, Outlook and SharePoint Online bring us closer to achieving our goal of ensuring that people with disabilities can communicate, consume and create content on any device. It's also easier for everyone to create accessible content, with Accessibility Checker now available to any customer using Office 2016 for Mac. Follow this blog series for news on upcoming accessibility enhancements.
In-app assistance: In Office apps on Windows desktops, now it's easier to find help documentation when you type a search into Tell me. Also, Office 365 Home and Personal subscribers in the U.S. can chat in real-time with a Microsoft support agent without leaving the Office app you're using (we'll expand to more markets soon).
Office Online extension for Microsoft Edge browser: We've had over three million installations so far of the Office Online extension for Chrome browser. Now, the same award-winning Office Online extension is available for Microsoft Edge. Right from the top of Edge, you can easily create new Office documents, access your recent files, and open content stored on your OneDrive, OneDrive for Business or your computer. Download the extension to get started (Windows 10 Anniversary Update required).