Microsoft delivers Windows 10 Anniversary Update RTM build 14393 for PC and Mobile. The new Windows 10 RTM build 14393.0 for PC and Mobile 10.0.14393.0 is released for fast ring insiders only. Slow ring insiders are still on build 14388.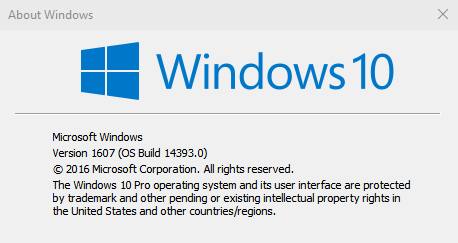 The Anniversary Update RTM build 14393 includes improvements and bug fixes for both Mobiles and PCs. Build 14393 for PC includes reliability improvement for Cortana and Action Center. The new Mobile build fixed the battery draining issues with Windows 10 Mobiles. Dona Sarkar informed insiders about the new build.
#Cortana wasn't kidding #WindowsInsiders, we are releasing 14393 to the Fast Ring for PC + Mobile today https://t.co/Bhb9dAlqpU

— Dona Sarkar (@donasarkar) July 18, 2016
As we were expecting the last build 14390 as Windows 10 Anniversary Update RTM build, but Insider team surprised us by releasing another new build. This build going to be available to everyone on 2nd August as Windows 10 Anniversary Update.
Improvements in Windows 10 PC Build 14393
Build 14393.0 improved the reliability of Start, Cortana, and Action Center.
With build 14393 You should now be able to mount iPods as USB mass-storage devices.
Known issues in Windows 10 PC Build 14393.0
Insider team is aware of certain cases in which Surface Books and Surface Pro 4's may bugcheck (bluescreen) due to a camera driver issue. An updated driver will roll-out via Windows Update soon that will fix this.
——————————————————————————————————————
 

Fixes in Windows 10 Mobile Build 10.0.14393.0
Mobile build 10.0.14393 fixed an issue resulting in rapid battery drain when Visual Voicemail syncs voicemail messages on Dual SIM devices like the Lumia 950 XL.
Build 10.0.14393.0 also fixed an issue causing some battery drain on older devices like the Lumia 535, 640, 735, 830, 930 and Icon.
Mobile build 10.0.14393 fixed the issue causing Voice Recorder to not show up consistently as an option for Call Recording. An app update was released last Friday that fixes this issue. Make sure you have the app version 10.1607.1931.0.
Insider team also fixed several issues impacting Dual SIM capabilities. Using a device with two SIMs should work as it should.
Known issues in Windows 10 Mobile Build 10.0.14393
Insider team will continue to investigate W-Fi issues on certain devices.
In build 14393.0 turning off, Bluetooth can sometimes result in freeze, crash, or reset. See this forum post for more details.
In Build 14393.0 wallet users are prompted for a PIN twice when using tap to pay from a locked phone. You can enter their PIN twice and tap as usual once the phone is unlocked. A fix for this will come as a Wallet app update via the Store.
—————————————————————————————————————–
Windows Anniversary Update is coming on August 2. Microsoft Windows 10 free upgrade offer is also ending on July 29. If you are still on Windows 7/8/8.1, you have few days left to upgrade your PC to Windows 10.