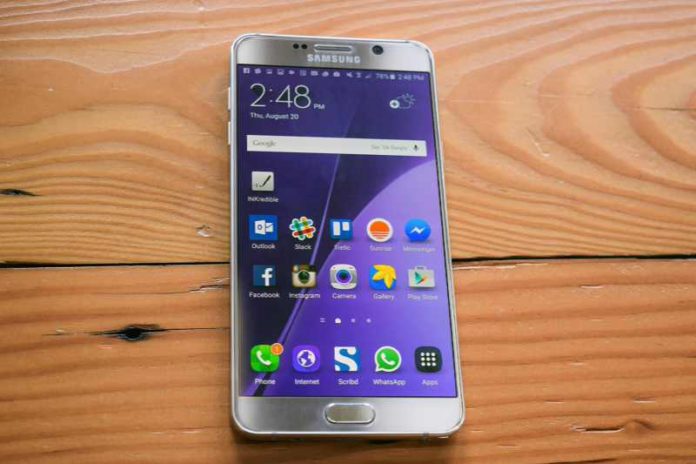 Samsung is now rolling out Android 7.0 Nougat update N920GDDU3CQC7 for Galaxy Note 5 in India. The update also includes Android February Security Patch.
There are also bug fixes and other performance enhancements for the Android device. Check out what's new and changed in this latest update.
Android 7.0 Nougat Update N920GDDU3CQC7 for Galaxy Note 5 feature:
The new battery management page helps maximize your charge
The new battery management feature helps maximize your battery's potential.
Easy access, customizable presets for Medium power saving mode or Maximum power saving mode.
App Power Monitor detects inactive apps still using the battery, and puts them to sleep, extending your battery charge.
Easier multitasking
Android Nougat now supports split screen, side by side viewing of any 2 apps.
Press the Recent App and select the split screen view for the desired apps.
Make your photos great the first time with the new Effects preview screen
Preview all available effects and filters while taking a picture by swiping left after launching the camera app, then choose the one you like best.
You can also explore other unique effects by tapping Download link on top.
Customize your Always On Display with your favorite images
With Nougat Update N920GDDU3CQC7 for Galaxy Note 5, choose your own favorite pictures for your Always On Display directly from the Gallery app.
Just choose an image, tap the top right corner navigation menu, and select Set as Always On Display image.
Easy and secure website access with Samsung Pass
Instead of remembering multiple login details for various sites or apps, Samsung Pass will securely store and manage your ID's and passwords. Just scan your fingerprint for authentication on the login page.
Improve your device performance whenever you need to
Nougat Update N920GDDU3CQC7 for Galaxy Note 5 brings new Performance Mode which enhances your device experience no matter how you're using it.
Choose from Optimized, Game, Entertainment, and High-performance modes to optimize battery consumption and/or improve device performance whenever you need to.
Updated keyboard and improved language predictions
A new keyboard engine updates language data, providing better predictions.
If you'd like to continue using the same languages configured prior to this software update, simply follow the on-screen instructions shown when using the keyboard for the first time.*
Configure automatic access to Wi-Fi when connecting to a wireless router/hotspot
You can enable or disable automatic reconnection to secure wireless routers or hotspots when connecting for the first time.
The OTA update size is around 1 GB. You can check OTA software update N920GDDU3CQC7 for Galaxy Note 5 manually by head into Settings » About Device » Download Updates Manually.