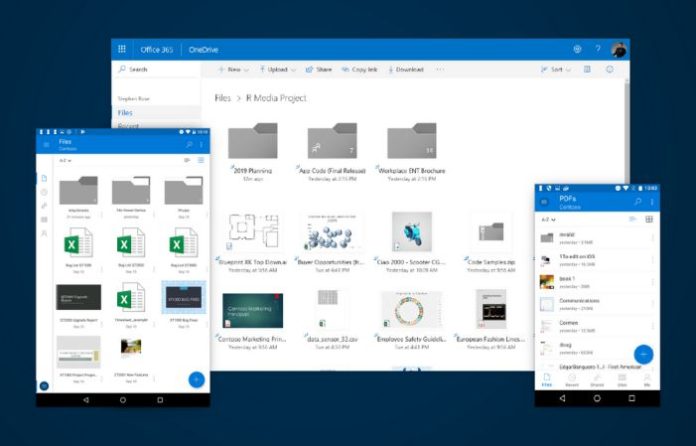 Microsoft today announced new refreshed look for its OneDrive. The new update will roll out across OneDrive web and mobile app to make finding what's important to you easier all while keeping you better up to date on what is going on with your files. The update wil release before the end of the year.
OneDrive's Refreshed Design
Find your files faster with the new design for files & folders aka it's all about that space.
The new layout uses your screen space more efficiently, and the uncluttered text styles makes it easier to scan across file names and notice essential information quicker. New files jump out at you. Shared files are now easier to spot and we have made the thumbnails larger and more detailed. New files come in, others change, some get shared out.
Cohesive theme and design across apps
Familiarity builds trust. As you move between devices from one moment to the next, thoughtful design decisions help remove friction and accelerate your day. To that end, we're refreshing the files experience across Android, iOS, Universal Windows Platform (UWP) and the web interfaces in OneDrive and SharePoint.
Preview files without opening
When you store files in OneDrive, you can count on our rich viewer support for over 270 file types, including Visio, Adobe formats like Photoshop, PDF  and Illustrator, RAW, , 3D and high-precision DICOM imagery.
The company also completely re-worked file icons to be modern and lightweight while keeping them familiar and recognizable.

New list flexibility and compact mode — A new Compact List that packs more items into folder views across OneDrive and document libraries with an even more uncluttered layout so you can handle thousands of items with ease.
Our regular and compact list design now lets you adjust column widths to flex to your data and your working style, which is especially handy for high-performance SharePoint solutions with custom file views and metadata.
Smarter Connections
Stay informed on what's popular — The cloud-powered Office graph gives you insight into how your contributions make an impact across your organization. Popular files show a trending indicator.
Quickly locate new files — Quickly find that colleague's contributions with our "New Item Indicator", which is a small gleen that looks like eyelashes above files and folders. This makes Items created within the last day easy to spot as you scroll through lists, tiles or the new OneDrive Recent view. This is especially useful in shared spaces like SharePoint™ team sites, where you can quickly catch up with the latest contributions.
File card reveals essential item metadata and insights — The file card is a new way to peek into who has viewed your file and when.
Powerful Recent Files view updates across OneDrive and Office — The updated Recent View experience across OneDrive, Office.com and the Office apps increases the accuracy and capabilities of the Recent view and ensure the content is consistent, familiar, and easy to find across all of these places. All the utility and visual improvements listed above regarding icons, layout and signals are part of this experience. With OneDrive and Office, it's now even easier than ever to pick up where you left off.
Accessibility top of mind — The new list and tiles experience across OneDrive and SharePoint was built from the ground up with ease of use and accessibility in mind, compatible with narration and assistive devices and following the Microsoft Accessibility Standard.