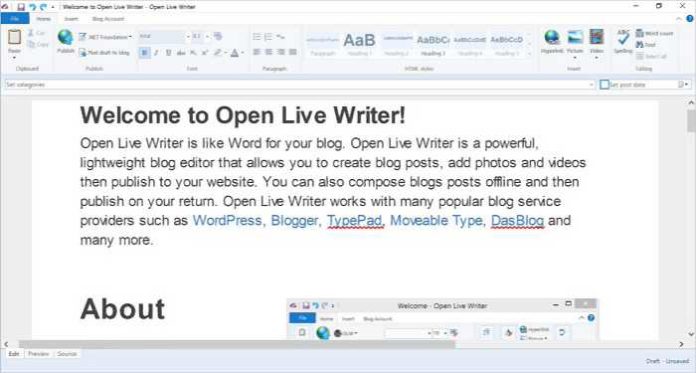 Open Live Writer Version 0.6.1.0 for Windows 10 is now available at Windows Store. The Open Live Writer is a open source version of Microsoft's Windows Live Writer program. Microsoft used Desktop App Converter to convert the program into a Windows app and upload it to the Windows Store.
Official App Description
Open Live Writer is like Word for your blog. Open Live Writer is a powerful, lightweight blog editor that allows you to create blog posts, add photos and videos then publish to your website. You can also compose blogs posts offline and then publish on your return. Open Live Writer works with many popular blog service providers such as WordPress, Blogger, TypePad, Moveable Type, DasBlog and many more.
Open Live Writer Version 0.6.1.0
This release contains two major new features, spellchecking and categories for Google Blogger! Only one language can be spellchecked in Writer at a time, but you can change the language at any time by going to File > Options > Spelling and choosing a new dictionary language. Google Blogger categories will automatically populate for easy tagging of your blog posts. In addition to categories, there are several other Google Blogger bug fixes in this release. The most notable issues were time zone differences causing scheduled posts to be scheduled at the incorrect time, failing to open drafts that were posted to Blogger, and failing to download and open posts from Blogger that are older than your most recent 500 posts.
[appbox windowsstore appid 9nblggh5279m]