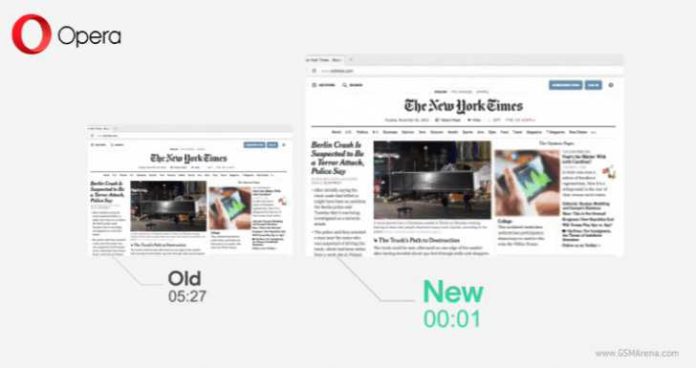 Opera today released its Opera 43 browser. According to the company, Opera 43 is the fastest version ever, with instant page loading and Profile Guided Optimization (PGO) features. Check out the full features list below.
New in Opera 43 browser 
Instant page loading
Instant page loading is a technology that predicts which website you're typing the address for. Once recognized, it begins loading the site in the background even before you hit enter.
Instant page loading becomes smarter over time by learning which URL inputs led to a specific website. For example, if you type "nyt.com" on multiple occasions, it will learn from this and begin loading the New York Times in the background. In addition, when you search for something in the address bar, it will load the results likely to be clicked in the background.
Opera can predict what page a user is going to load not only from its behavior, but also when the current page uses the < link rel=prerender … > tag.
PGO for Windows
Profile Guided Optimization (PGO) is a compiler technique able to make software running on Windows significantly faster. With PGO, we can teach the compiler what usage scenarios are important so that Opera can perform those tasks even faster, using even less CPU.
PGO optimizes the most important parts of the browser, and brings some significant speed improvements. With this technology, startup is 13% faster*. Also, the browser engine has gotten a performance boost, confirmed by several benchmarks such as Speedometer (60.3% improvement compared to Opera 42), JetStream (7.7%), and Octane (3.35%)**.
Classic link selection
In addition, Opera 43 brings you classic link selection. With this feature, you are able select text in the link without triggering the link. Using classic link selection is really simple:
Use horizontal click-and-drag to select the text.
Use vertical click-and-drag to drag the link.