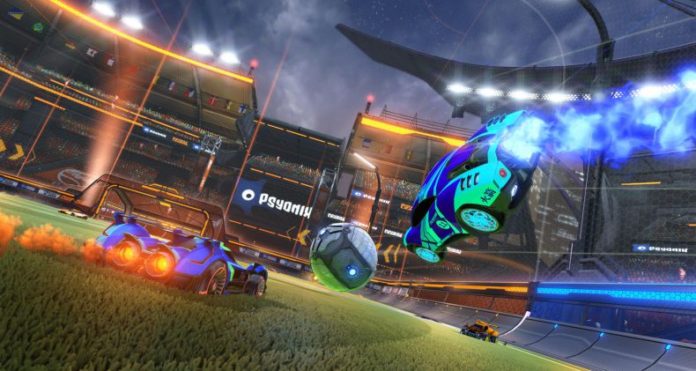 Rocket League update 1.35 for PS4, Xbox One and PC is now available for download. Today's Rocket League Anniversary Update brings Competitive Season 5, new features, free stuff and more. The update also brings performance improvements while addressing stability issues. Check out more details below.
New in Rocket League Update 1.35
"Champions Field" is now available in all Playlists, and in Private Matches
Engine Audio, Goal Explosions, and Trails have been added as Car Customization categories
"Overdrive" Crate has been added
"Champions" Crate Series has been retired
Competitive Season 4 has ended, and Season 4 Rewards are being distributed to qualifying players
Competitive Season 5 is beginning
Rick and Morty items are now available as drops after all matches

ARENAS

"Champions Field" is now available in all Playlists, and in Private Matches
"Starbase ARC" has been updated with new visuals and reduced brightness
Boost pads are now standardized in all standard Arenas

CRATES

"Overdrive" Crate has been added
When received, the Overdrive Crate will display as "Crate – Overdrive" in your inventory
"Champions" Crate Series has been retired

TRAILS

Trails are now available in the Car Customization menu
Trails appear behind the Wheels when your Battle-Car goes SuperSonic
Every player has the "Classic" Trail by default
More Trails are available in the Overdrive Crate

GOAL EXPLOSIONS

Goal Explosions are now available in the Car Customization menu

Every player has the "Classic" Goal Explosion by default
New Goal Explosions are available as Common drops after all online and offline matches:

"Standard Green"
"Standard Orange"
"Standard Pink"
"Standard Purple"

More Goal Explosions are available in the Overdrive Crate

ENGINE AUDIO

Engine Audio is now available in the Car Customization menu
You have access to Engine Audio for every Battle-Car you own
The Engine Audio can changed on any Battle-Car in your GA

Licensed Battle-Cars are excluded

Engine Audio for all existing Battle-Cars has been updated

Legacy Engine Audio is still available as an Engine Audio customization option

COMMUNITY FLAGS

"Gfinity" (Updated)
"X Games"
"Monstercat"

ANTENNAS

DECALS

RICK AND MORTY

Rick and Morty items are now available as drops after matches

"Interdimensional GB" Boost
"Sanchez DC-137" Wheel
"Rick" Antenna
"Morty" Antenna
"Cromulon" Topper
"Mr. PBH" Topper
"Mr. Meeseeks" Topper

RLCS SEASON THREE WORLD CHAMPIONSHIP ATTENDEE ITEM

Players who attended the RLCS Season Three World Championship in June can now redeem their in-game item

Item: "Decennium Pro" Wheels

To redeem, go to the "Extras" menu, select "Redeem Code," and enter your unique code
These wheels are not tradeable

BRISK

Players with a valid code can redeem their Brisk in-game items

Item: "GA-819 HB" Wheels
Item: "SWT-T" Decal

To redeem, go to the "Extras" menu, select "Redeem Code," and enter your unique code
These items are tradeable

ACHIEVEMENTS AND TROPHIES

Storm Trooper

Equip a Very Rare Item and complete a game in an Arena with turbulent weather

Good Times

Head to Champions Field and complete an Online game

Swap Meet

Trade and receive one or more items with another player in a single transaction

Trade Secret

Trade In five items of the same quality to receive an item of the next-highest quality

Rank Up

Complete all placement matches in any Competitive Playlist

Note: If you are already placed in one or more Competitive Playlists, this achievement should unlock automatically

Coming On Strong

Score or Assist a combined 30 goals or assists in Casual or Competitive Online matches
CHANGES AND UPDATES
GENERAL
Players now have 50 Car Preset slots, up from ten
A "Change Preset" button has been added to the end of game lobby. You can now change to another Battle-Car preset without exiting a match
"Dodge Deadzone" added to Controls Options.

This setting allows you to control how far you must tilt the controller stick to activate a directional dodge move in the air instead of double jumping.
The default value of 0.5 means you must move the stick at least half of the way towards your intended direction to dodge instead of double jump.
The maximum value of 1.0 means you must move the stick all the way in a direction to trigger a dodge.

Rocket Trails have been renamed Rocket Boosts
Pressing Start when selecting Online Playlists now starts the matchmaking search
The Boost Meter and Rumble Powerup are now displayed when watching a player in Spectator Mode
The Boost Meter and Rumble Powerup now display during Replays
A pop-up window will appear when exiting a match when you have indicated you wanted a replay, but did not save a replay
A "Maintenance Mode" message has been added to the matchmaking ticker. You will see this only when PsyNet is undergoing maintenance
"High Contrast Nameplates" now default to ON. This can be reverted in the Options Menu
COMPETITIVE SEASON 5
Competitive Season 5 has begun
New for Season 5 is the "Season Reward Level," a new type of Skill Tier progression

Your skill ratings are carried over directly from Season 4 into Season 5
You do not have to play placement games this season
Players will compete against opponents of the same skill ranking to earn wins that count towards your Season 5 Reward Level
Each level requires 12 wins against players of the same Skill Tier or higher

Ex: A Bronze player must win 12 games against Bronze Skill Tier players or higher in order to unlock Bronze-level Season Rewards

Losses do not affect your win count progression
CAR STANDARDIZATION CHANGES
Rocket League update 1.35 implemented a new type of car standardization that minimizes differences in handling and hitbox between cars of the same "type". For this initial release, this affects the following cars:

"Octane" Type: Octane, Octane ZSR, Takumi, Takumi RX-T
"Dominus" Type: Dominus, Dominus GT, Hotshot
"Plank" Type: Batmobile, Mantis, Paladin, Twin Mill, Centio V17
"Breakout" Type: Breakout, Breakout, Animus GP

Note: The Breakout hitbox has been widened slightly. This affects all cars using its standard type.

"Hybrid" Type: Venom, X-Devil, Endo

Note: This is a new type that offers a middle ground between "Octane"-type and "Dominus"-type hitboxes.
USER INTERFACE
The "Find Match" window has been updated

Casual and Competitive Playlist categories are now separated by dedicated tabs
The game will remember your last chosen category

A new "Recommended" Server Region has replaced the "Select All" option

Recommended servers are any servers with good ping
Good ping is defined as 100 ms or below

A new warning pop-up message has been added to the trading screen

After you invite a player to trade, a new message will appear with several trade-related disclaimers
Players have the option to disable the message upon first viewing
AUDIO
Engine Audio for all Battle-Cars has been revised (see "Engine Audio" under "New Content" above)
The Music Playlist UI has been updated

Rocket League Radio: Players can now select specific soundtrack playlists, or choose all playlists

The "Rocket League x Monstercat" playlist has been added with 18 new songs
Fixed in Rocket League Patch 1.35
Updated Car Bumping and Demolition

Fixed a bug with Car Bumps and Demolishes that could cause them to be ignored at wider collision angles
Fixed an issue where Supersonic FX would stay active despite the car falling below the minimum speed to Demolish opponents

Rocket League update 1.35 fixed an issue with ball bounces off of the junctions between curved and flat wall segments. These bounces should now be more consistent than before
Changed car suspension code to reduce the likelihood of getting stuck when driving up curved surfaces
Centers, Saves, and other related stats now work correctly when the "No Goal Reset" Mutator is active
Ball should no longer get "stuck" in Free Play Training
Party members that go directly to Free Play Training from the post match screen will no longer prevent Party leaders from matchmaking
Players will no longer receive a matchmaking ban if they leave a Competitive match during the final goal replay
Rocket League update 1.35 fixed a bug with the "Hexed" and "Snakeskin" decals that changed their look in the v1.34 update.
Wheel effects no longer flicker when browsing or equipping other items in the Garage
Loading screen now correctly displays all information when joining a Rumble or Dropshot match
[Steam] Additional player names in Splitscreen Mode are now correctly displayed in the Party Bar
Duplicate item sound no longer plays when scrolling through items in the Garage
Nitro Crate localization has been updated for Portuguese and Turkish languages
Ball Cannon properly disappears between shots in Custom Training levels
[PS4] Cars with three painted items or more equipped will correctly appears in other Party Member's lobbies
Adjusted the "Crazy Sandwich" Decal on the Ice Charger
An idle warning now appears when viewing the midgame menu
Appearance of the ball indicator and direction indicator on Aquadome have been adjusted
Rocket League's Competitive Season 5
Rocket League's Competitive Season 5 is now available with Anniversary Update. There is no Competitive Skill reset for Season 5. Your ranks will carry over from Season 4 into Season 5. If you are looking forward to starting over each season, the downside of doing a reset can be significant. Match quality can be poor for several weeks after a season ends as players recalibrate to their actual skill ranking. According to the developers, they aren't comfortable creating so much matchmaking instability every few months.
Season Reward Level
With Rocket League update 1.35, Competitive Season 5 introducing a concept called Season Reward Level that is independent of your matchmaking rank. Your Reward Level starts at Unranked, and each win earns you progress towards the next level. Each Reward Level requires 20 wins to unlock, and they are sequential. You unlock Silver rewards after Bronze, Gold after Silver, and so on. Losing a match will not count against your Season Reward Level in any way, even if the loss causes you to drop a Tier or Division.
Wins only count toward your Season Reward Level if you're playing at or above that level's Skill Tier. For example, you can progress towards unlocking Bronze rewards by playing at Bronze tier or higher. But a Gold player who has unlocked Gold Season Rewards cannot yet unlock Platinum Season Rewards.
Check your game update on PS4, Xbox One, PC, and download Rocket League update 1.35.