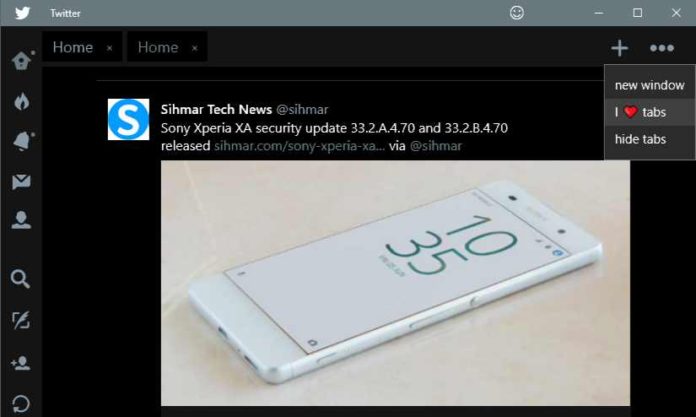 Twitter app 5.5.0.0 is now available for Windows 10 devices. The latest update brings new Tab feature and other improvements for Windows 10 users. The update also brings share a tweet via Direct Messages feature and other under the hood improvements.
With the latest update, users will now able to open different tabs within the Twitter app. You can now add tabs for other lists, direct messages, profiles, and more. Also, if you don't like it, you can hide them or turn it off from settings.
Twitter 5.5.0.0 for Windows 10 features:
Copy and paste images directly from the clipboard (PC): You can now paste an image directly into the tweet composition box without uploading.
Insert emojis using new picker (PC): PC users had to rely on the software keyboard – if available – for emojis. Now, they can do it directly even on PCs with no touch display.
Pin to your profile: You can now pin a tweet to your profile.
Direct Message a tweet: At the bottom of each tweet now is a DM icon letting you directly share that tweet with someone through DM.
Twitter 5.5.0.0 for Windows 10 will gradually roll out to everyone. You can download the app from the Windows Store or from the link below.
[appbox windowsstore 9wzdncrfj140]