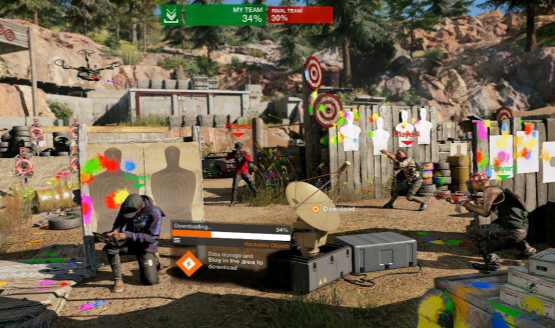 Watch Dogs 2 update 1.13 for PlayStation 4, Xbox One, and PC is now available for download. This is the biggest free content patch for Watch Dogs2 so far.
The new patch brings a new Showd0wn PvP mode, online races, the paintball gun, and support for the paid No Compromise DLC, which launches tomorrow, April 18, on PS4.
New in Watch Dogs 2 Update 1.13
New Content
New Online Mode: Showd0wn – This is a new type of online gameplay for 2v2 PvP matches that can be played with a friend, or through random matchmaking. Showd0wn will feature three types of objectives [Steal the HDD, Doom-load (KotH style), and Erase/Protect the Servers] across 15 distinct locations. This is a great endgame challenge to play with friends, provided you're not a script kiddie and know how to use all of the tools in your arsenal.
Online Races – Drone, motocross and eKart races are getting multiplayer functionality! They will also have their own leaderboards, so you can use them to compete for season rewards.
Loot Truck Event – These armored trucks will randomly appear in the world, offering you a chance to hack them and then defend against the flood of police that will be responding. These will not be easy to rob, but the cash and followers payout is fat.
Paintball Gun – This gun will be available in the 3D printer and can stun enemies with a barrage of paintballs. Fun fact: in PvP gameplay your opponent's screen will be colored in paintball splashes when you attack them.
New Clothes – 13 new clothing items are available in the various stores, as if you didn't look fly enough already.
Improvements
Explosive damage – Watch Dogs 2 update 1.13  improved the effectiveness of explosives for online play. With this update, damage to the opponent is determined by their proximity to the explosion. Standing on top of the IED will end in immediate and embarrassing death, but you'll suffer less damage if you're further out when the blast goes off. Check yourselves before you wreck yourselves.
Leaderboards – Watch Dogs 2 update 1.13  brings multiple minor improvements to the leaderboard system
Bug Fixes
"Bio Hacking" blocker – Fixed an issue that was preventing some players from completing this mission.
Duplicate operations – Fixed a bug that was sometimes causing duplicate operation entries in the DedSec App.
Key Data – Watch Dogs 2 update 1.13 updated some Key Data units with proper definitions and descriptions on the map.
Lots of other minor bug fixes and improvements we don't want to bore you with.
The No Compromise DLC releasing tomorrow with a multi-mission storyline called Moscow Gambit, six new single-player time trials, two new non-lethal weapons (Air Shotgun and Taser Sniper Rifle), and new ability-granting outfits and vehicles.
Check your game update and download Watch Dogs 2 update 1.13.