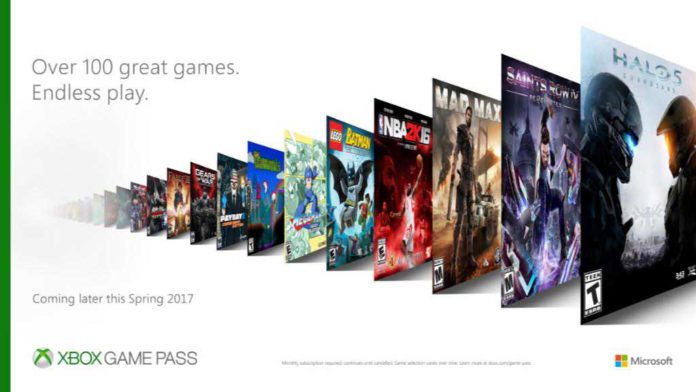 Microsoft today announced Xbox Game Pass, a new subscription service with unlimited access to more than 100 games. The new gaming subscription service coming later this spring alongside Project Scorpio console. With $9.99 per month, you will get unlimited access to over 100 Xbox One and backward compatible Xbox 360 games.
Official Post,
One of the best things about Xbox Game Pass is that you can discover and download the full titles directly on your Xbox One. That means continuous, full-fidelity gameplay without having to worry about streaming, bandwidth or connectivity issues. In addition, all Xbox One games in the catalog – and related add-ons – will be available to purchase at an exclusive discount for Xbox Game Pass members, so you can make the games you love part of your permanent library to play whenever you want. Every month new games will cycle into the subscription with some cycling out, giving you a constantly updating library of games.
Xbox Game Pass features:
One low monthly price
Enjoy unlimited access to over one hundred great Xbox One and Xbox 360 titles, including fan-favorites like Halo 5: Guardians, Payday 2, NBA 2K16, and LEGO Batman. With so many games to download and discover, your Xbox experience will never be the same.
Always something new to play
Play games across multiple genres, from action/adventure and family favorites to shooters, sports, puzzle games, and more. And with new titles added every month, you'll always have a wide selection of great games to choose from.
Download and play in full-fidelity
Download games directly to your console and play online or offline in full-fidelity, without any streaming or connectivity issues. Whether it's a new story to immerse yourself in or an old journey you're eager to revisit, experience your games as they were intended.
Discounts on Xbox One games
Love an Xbox One game and want to own it? Interested in an add-on or Season Pass for a title you're playing in the Xbox Game Pass catalog? Save 20% on Xbox One game purchases and 10% on all related add-ons, but only while the base game is currently in the catalog.
Gold plays first
As an Xbox Live Gold member, you'll have exclusive access to Xbox Game Pass before anyone else and be among the first to play over one hundred great games. Please check back as we'll be updating details and availability.
Microsoft will test Xbox Game Pass with select members of the Xbox Insider Program in the Alpha Preview ring with a very limited number of titles. Xbox Live Gold members will also be receiving exclusive access to Xbox Game Pass prior to the program launching to the broader community.