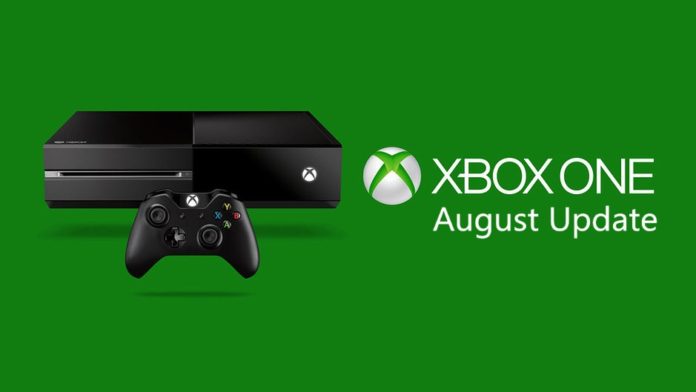 Microsoft Xbox One Summer Update is now rolling out to all. XBox One August Update includes many new features like Xbox HDR, background music, Cortana and much more. Groove app background music support is in Preview, it will soon release to all along with Other apps.
10.00am PDT release of the Xbox One Summer Update – Preview Members thank you for all the great feedback! You all rock, lets play games!

— Brad Rossetti (@WorkWombatman) July 30, 2016
Xbox update is rolling out to all. Enabling great features: Xbox One S 4K, HDR, new Collection, Cortana, language region independence&more.

— ♏️ike Ybarra (@XboxQwik) July 30, 2016
Xbox One Preview Members already have the latest build 1608.160725-1822. New update build is rolling out to GA. Know more what's new in Xbox One Summer Update. On August 2, Microsoft will also release Windows 10 Anniversary Update.
New in Xbox One Anniversary Updates
Cortana on Xbox One available in the U.S. and U.K.
You Can Now Use Voice Commands or Speak to Cortana Through Your Headset

Users can now use Cortana. Once Cortana is activated, you can use voice commands via your headset! No more need for a Kinect sensor, just say "Hey Cortana" into your headset.

Cortana Now Understands Which Game You're Talking about without Using the Full Title

Users can now say "Hey Cortana, let's play Halo" and Cortana will understand without having to hear the exact title of the game.

"Xbox, what time is it?"

Users can now say "Hey Cortana, what time is it?" and Cortana will tell you!

Cortana Can Handle a Variety of Different Requests

Users can say "Hey Cortana, what's the weather like in Redmond?" or "Hey Cortana, will I need a jacket today?" and get a weather report, sports scores, flight information, and more!

Cortana Now Allows for Natural Language and Phrasing

Users can now say "Hey Cortana" and phrase their question or request using natural language instead of specific phrases! Try "Hey Cortana, tell me a joke."

Cortana Can Now Tell You Sports Scores

Users can now say "Hey Cortana, did the Seattle Mariners win yesterday?" and Cortana will provide you with the results!

Cortana Can Now Make Recommendations

Users can now say "Hey Cortana, find funny movies with Matt Damon," and Cortana will understand and provide movies that meet your criteria.
Improved Game Collection
The View in My Games & Apps Now Uses More of the Screen to Display Games

The new Game Collection now uses all of the available screen real estate to show you your games, offering multiple rows of games instead of just 2! Just go to My games & apps and change the tile size to display as many as 6 titles per row via the Small tiles setting.

My Games & Apps Now Shows All Owned Xbox Games

The New Game Collection now includes sections for installed games, installed apps, and games & apps that you own that are Ready to install.

Downloading Games Now Shows Both Download Speed & Statistics of Your Download

The Xbox One Queue now gives you detailed information about your download. This information appears in the queue, but also on the My games & apps navigation bar while a download is in progress. You can even view your download progress directly on your dashboard in the box under My games & apps.

My Games & Apps Is Now Easier to Sort and Organize

Users can now sort their collection by Title name (A-Z), last used, most recently updated, and size. If you have a large game collection, you can also group by letter which creates a grouped alphabetized list which you can collapse just down to the alphabet by clicking any letter then jump to a specific letter to more quickly find the game you are looking for.

Tiles in My Games & Apps Can Now Be Resized

In My games & apps, users can now change the size of the tiles, so you can see more games on-screen at once. Three options are available: Large tiles, Medium tiles and Small tiles and you can have separate sizes set for your Games, Apps and Ready to Install lists.
Language Region Independence
Language and Region Can Now Be Set Separately

With Language Region Independence, you'll be able to choose English or any other supported language for your console experience regardless of your console's region! Go to Settings > All Settings > System > Language & Location to choose!
Xbox and Windows Store convergence
Game Prices Are Now Visible When Browsing the Store

With the newly redesigned Xbox store experience, prices are now visible while browsing! Users can also see ratings, and if a game is on sale, it will show you both the retail and sale price.

Games Can Now Only Be Rated by Users Who Purchase the Game

In the new Xbox Store, only users who purchase or pre-order a game can rate the game! This will help give you a better view into the experience of users who have played the game.

Xbox Play Anywhere Enables Single Purchases Across Multiple Platforms

Xbox Play Anywhere ensures that when you purchase an Xbox Play Anywhere (XPA) game for your Xbox One or Windows 10, you'll be able to play on either platform, and your achievements and saves will be shared across the platforms!
Facebook Friend Finder
Facebook Friend List integration

Now on the Xbox One, connect your Facebook account to your Xbox Live account to find your Xbox playing Facebook Friends. You only need to connect your account once via Facebook Login; if you've already gone through the steps on the Xbox app for Windows 10, iOS or Android, then you're all set! Otherwise, now you have the option to log into your Facebook account from your Xbox One, making it easier to find more people to play games and have fun with. Go to Settings > Account > Linked social accounts > Link Facebook account. Note: If you've already linked your account in the Xbox App on Windows 10, this will already be set up!
Improved sharing on Xbox One
You Now Have Better Control Over What Gets Shared to Your Activity Feed!

Users can now choose what gets shared automatically in the Activity feed! Go to Settings > Preferences > Activity Feed to choose what you want to automatically share.
Xbox App Updates
The Xbox App has also received a major update! The latest version of the Xbox App for Windows 10 is 19.19.28029.0. You can check the latest version of your app by opening the App on your Windows 10 device, then going to Settings > General > Version to check. These new updates include the ability to see the top Windows 10 PC games on Xbox Live, 60 fps game clip recording, even more, Windows Game Bar full-screen support, and more!
The Xbox App on Windows 10 Is Now Also on iOS and Android!

The Xbox app is now available on iOS and Android. Now, you can stay connected to the Xbox Live community, see what your friends are playing, share game clips and screenshots, and view achievements through the Xbox app on Windows 10, iOS and Android devices
Items still marked "In Progress"
The following items will remain marked as "In Progress" and will move to a status of "Complete" next week as the first background music apps ship and the Xbox One S console becomes available to our customers.
Play Music from Apps Without Snap (Background Music)

The Xbox One Summer Update brings the ability to enable Background Music on your console as new apps are released to support this feature. Pandora will be the first app to support this feature in the coming days, followed by Groove Music and other partners adding this capability when they update their apps to be UWP Applications.

Xbox One Slim Edition with 1080p/4k support

Xbox One S when the 2TB launch edition becomes available on August 2 for $399. The update will also be ready for the 1TB and 500GB Xbox One S models later in the month, starting at $299.

4K or UHD Video Support and 4K Blu-ray compatible X1 when the spec is finalized

The Xbox One S will support 4K Ultra-HD Blu-ray™ and Streaming. With four times the resolution of standard HD, 4K Ultra HD delivers the clearest, most realistic video possible. Stream 4k content on Netflix and Amazon Video and watch Ultra HD Blu-ray movies in stunning visual fidelity with High Dynamic Range. For more information, please visit the Xbox One S page on xbox.com.
Apps currently available on Xbox One Update:
[appbox windowsstore appid 9wzdncrfj0bc][appbox windowsstore appid 9nblggh1zj3r][appbox windowsstore appid 9wzdncrfj3q2][appbox windowsstore appid 9wzdncrfhx2x][appbox windowsstore appid 9nblgggz5qdq][appbox windowsstore appid 9wzdncrfj3p2][appbox windowsstore appid 9nblggh30xj3][appbox windowsstore appid 9wzdncrfjbbg][appbox windowsstore appid 9wzdncrfj3pt][appbox windowsstore appid 9wzdncrfj46v][appbox windowsstore appid 9wzdncrfj3l1][appbox windowsstore appid 9wzdncrfj3tj]