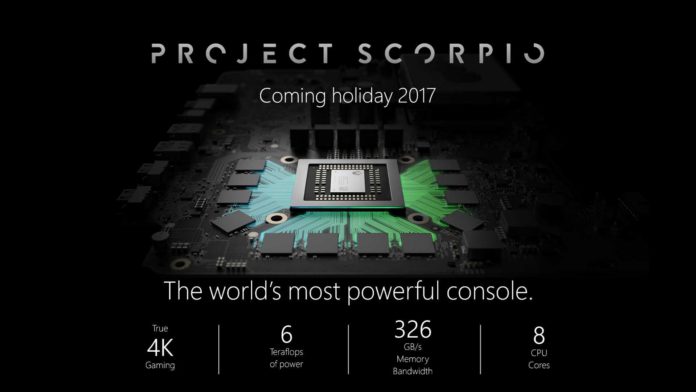 Microsoft today officially revealed Xbox Project Scorpio final full specifications. The upcoming powerful Xbox console will Project Scorpio will achieve SIX TERAFLOPS of GPU power with help of 12GB of DDR5 RAM at 6.8GHz with 326 GB/s bandwidth. Check out the console details below.
Xbox Project Scorpio full tech specs
Project Scorpio will have 12GB of DDR5 RAM, at 6.8GHz with 326 GB/s bandwidth, as we previous reported, now confirmed by Digital Foundry (DF).
Scorpio will feature eight CPU cores, but now we have a little more detail. It's a custom design sporting 2.3GHz, with a 4MB L2 cache.
Xbox Project Scorpio will sport an internal PSU (245W) and a compact design, owing to advanced cooling techniques pioneered by Microsoft's leading industrial design team.
Project Scorpio will achieve SIX TERAFLOPS of GPU power using a customized design, with 1,172 GHz, 40 compute units, while leveraging features from AMD's Polaris architecture.
Scorpio will retain the Xbox One S 4K UHD Blu-ray drive.
DF tested a version with a 1 TB HDD, but it's not yet known if it will come in other configurations.
Scorpio will have both HDMI-in and out, 3x USB 3.0, a SPDIF digital audio port, an IR receiver/blaster, and will support Kinect with a USB adapter.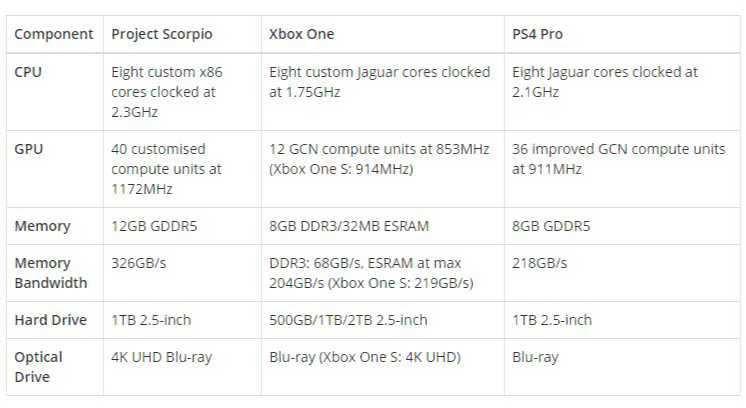 While there is no information about Project Scorpio looks and size, or its name or price. However, the rear of the console is based on the Xbox One S, so there's no dedicated Kinect port, but HDMI input is still present. Microsoft is also sticking to a 4K Blu-ray drive for the optical drive.
Scorpio also features vapour-chamber cooling inside, a technology that's used on high-end PC gaming cards like the GTX 1080. All of this is packed into hardware that's described as "compact," complete with an integrated power supply unit.
The final Xbox Project Scorpio will be revealed at E3.