This is Windows 10 Upgrade guide, the following tutorial will help you install free Windows 10 upgrade on your PC. To upgrade from Windows 7/8 to Windows 10 you need an Activated Copy of Windows.
To check if your copy of Windows 8 is activated, press Windows Key + W to pull up the Setting search and type in "activated" to access the "See if Windows Is Activated" menu. Alternatively, you can look under Control Panel -> System to see the status of the machine.
To check if your copy of Windows 7 is activated you can click on Start Button, right click on "Computer", and select properties. The resulting status menu will show if your copy of Windows is activated.
Now you need to download appropriate Windows 10 Update Tool. You can find the download tool here. Select the correct version, 32 or 64-bit, to match your current Windows installation. If you have 3GB of RAM go for 32-Bit. Install 64-Bit if you have more than 3GB RAM.
Running the Upgrade Installer
When you're ready to upgrade run the installer tool, labeled MediaCreationTool, to get started.
You'll first be prompted to upgrade the PC or create installation media for another PC. Select "Upgrade this PC now" to begin the upgrade process and click "Next". This begins the download process which is a long or short affair dependent entirely upon your Internet connection speed.
Click "Accept" and the installer will do a final update check before kicking you over to the final confirmation page.
By default the installer will select the largest "what to keep" selection it can. If you want to make changes to what it is keeping click the small "Change what to keep" link as seen in the screenshot above. You'll be prompted to select to select which kind of installation you want.
Here in this section you'll select to keep personal files and apps, personal files only, or nothing at all and your apps, files, and settings will be deleted. The little micro-summaries under the entries aren't perfectly clear so feel free to click on the "Help me decide" link for more information.
What can I keep when I upgrade?
What you can keep depends on the version of Windows you're running on your PC, so you'll only see the options available to you. Here's what you might see:
Windows settings
This keeps your settings like Ease of Access, your desktop background, or Internet favorites and history.
Personal files
This keeps any files that are saved in your User folder, like the Documents and Desktop folders.
Apps
This keeps apps that will work after you upgrade. To get a report of apps that you currently have on your PC that will work, and those that won't, run the Upgrade Assistant, available online at here before you upgrade (you'll need to close Setup to run the Upgrade Assistant). Some apps might work after you upgrade but you'll need to reinstall them. You'll see a list of these in the report. You'll need your original installation media to reinstall them.
Nothing
This deletes everything, including all of your apps, and replaces your current version of Windows with Windows 10. Your personal files will be moved to the windows.old folder. You can find more info online at here
The most obvious and smooth transition is offered by "Keep personal files and apps". If you're upgrading from Windows 7, however, be prepared to reinstall applications as significant changes between the Windows 7 architecture and the Windows 8/10 architecture necessitate it.
When you're ready click "Next" to proceed and it will return you to the final screen. Confirm that on the "Ready to install" screen it shows what you want (e.g. you selected "Keep personal files and apps" and that's what it says). After confirming the installation click "Install". Your PC will reboot a few times as the installer works and when it's done you'll be returned to the Windows login screen.
Configuring Windows After The Upgrade
As soon as you log in for the first time you'll be prompted to accept the "Express Settings" or click the tiny link to "Customize settings". You should definitely click "Customize settings" to see what Microsoft has set as the defaults and confirm whether you want them set as they are.
The first screen is called "Personalization". The privacy conscious will want to turn off everything in this menu. (If you later discover you just can't live without a personalized Cortana experience you can always turn it on again).
The second screen is focused on browser protection, hotspots, and error reporting. SmartScreen is useful if you use the Microsoft Edge browser or the Windows Store.
The final screen shows you the four new default Windows apps for photos, web browsing, music, and movies/TV. If you click "Let me choose my own default apps" it doesn't actually let you choose the apps at this moment but merely allows you to uncheck one or all of the four default app selections (you'll be prompted to make your default choices later when you open your preferred web browser for the first time and so on). When you click "Next" this final time you'll be sent, after a short wait, to the Windows 10 desktop.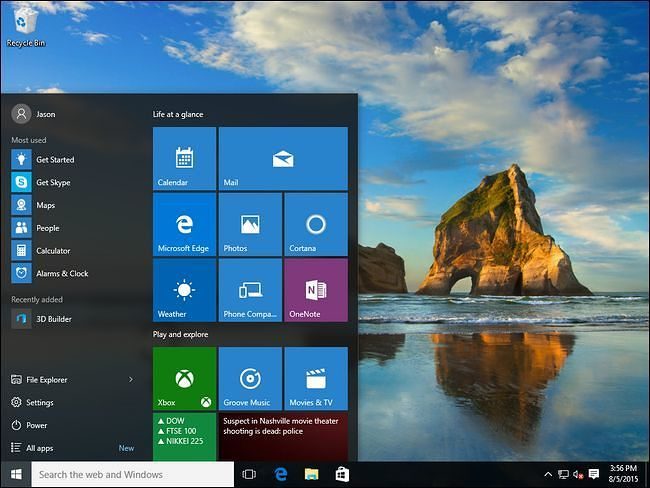 Now is the time to check on your apps and update them if necessary as well as to plug in your peripherals, check that all your hardware works and update the drivers if necessary.