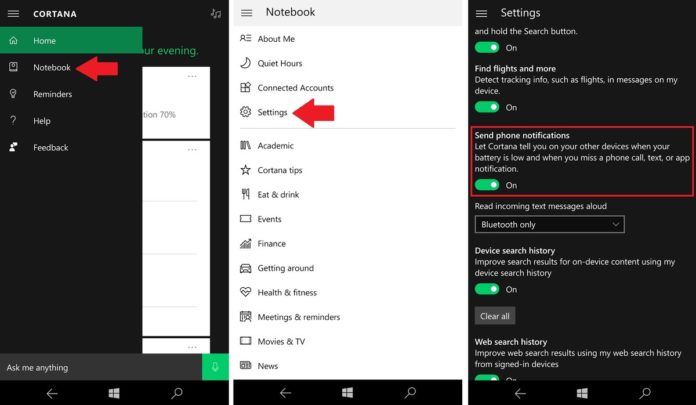 Microsoft's Cortana now has the ability to tell your other connected devices when that particular one's battery is running low. Besides low battery alerts, Cortana is also getting the ability to notify you of a missed text or even app notification. New option is located in Cortana's settings, but it can also be used for tablets and laptops.
The feature evidently came out in build 14291. The phone feature was spotted by Cassim Ketfi and later Florian B. confirmed the feature is also on the desktop build of 14295 as well.
To check if you have the feature:
Open Cortana
Use the Menu button and choose Notebook
Select Settings
Enable Send phone notifications
In the 14295 build Microsoft has added "when your battery is low" and "text or app notifications" in addition to the missed calls feature. Once these features go live the connection between Cortana and your devices will certainly be more helpful. That is one of the goals of the Redstone branch, which will make the experience between Windows 10 Mobile and Windows 10 PC more continuous.