Samsung is preparing to unveil its stretchable display design at the Society for Information Display 2017 event at the LA Convention Center this week. The company is expected to reveal world's first 9.1-inch dynamic stretchable AMOLED display.
The flexible display is already available in the market, which includes curved and rollable displays. While current flexible OLED is able to be transformed in only one side, this stretchable OLED can be curved, bent or rolled in both sides, above and below.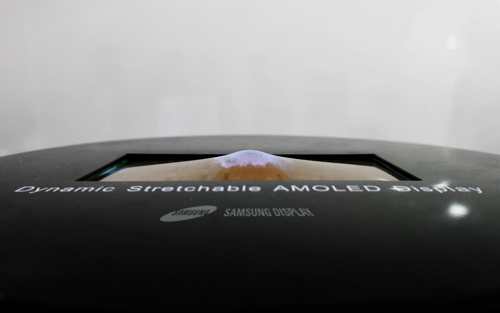 Samsung Stretchable Display could also move 12 millimeters in a direction and then settle when released like a balloon. This could potentially lead to smartphones screens that are less likely to crack, but also ones that could be expanded or shrunk depending on the situation.
The company is also expected to unveil a 1.96-inch UHD (3840 x 2160) with 2250 pixels-per-inch for VR. Samsung is also working on smartphones with folding displays, likely for release next year.